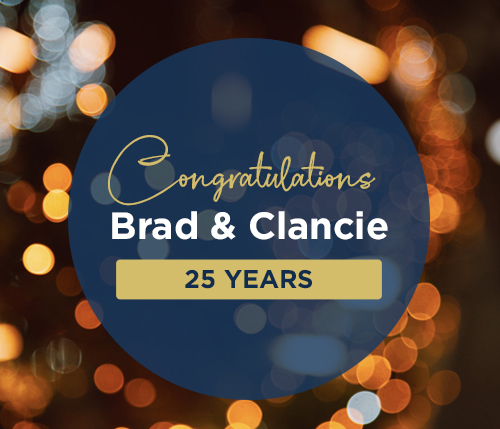 10 Oct 2023
Goodmans congratulates 25-year work anniversaries!
We are delighted to recognise two members of our team who are celebrating 25 years with Goodmans – Brad Church and Clancie Morrissey!
There are few people who reach this milestone in their career. To mark the occasion we interviewed Brad and Clancie, as well as some longstanding clients, about their time with Goodmans.  You can view the short version of the interview with Brad and Clancie or the full version. 
It is amazing to think about all Brad and Clancie have achieved over their career journeys at Goodmans—Brad in his roles as CEO and Adviser, and Clancie in her roles as Portfolio Administrator and Quality & Standard Manager. We're so pleased each of them chose to join Goodmans back in 1998, and grateful they've chosen to remain with us.
 
Their hard work, positive attitude, and innovative ideas have helped us achieve remarkable things for our clients and made a real impact on our team and our business.
 
Brad and Clancie have never failed to put Goodmans and our clients first, and we all take inspiration from their leadership, dedication, passion, and loyalty.
 
Please join with me in congratulating Brad and Clancie on their 25-year work anniversary!